Arizona Adventure Elopement Photographer - Winter Proposal Ideas in Arizona
Proposal locations in the Phoenix area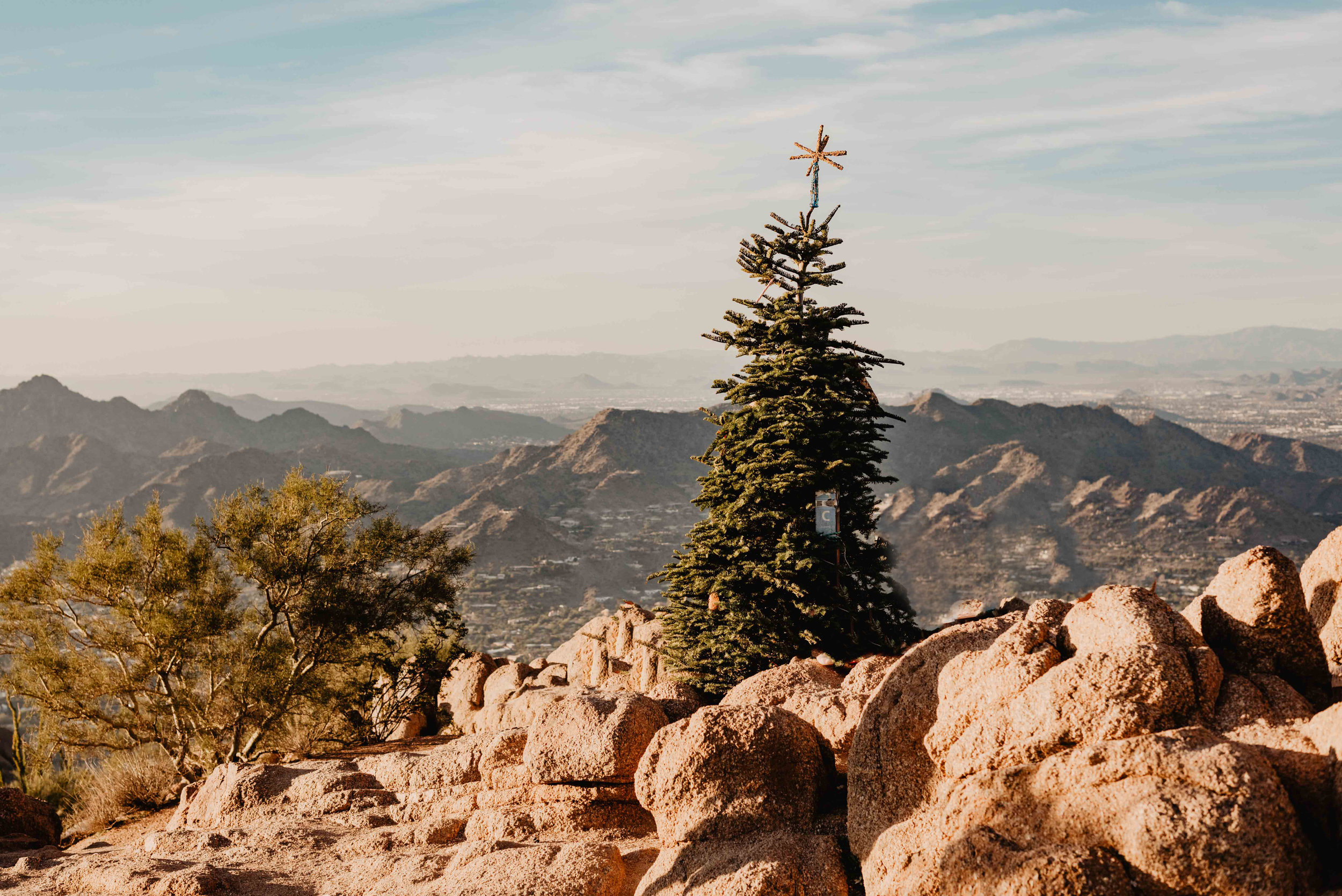 Tis' the season and propose at the top of Camelback Mountain. The Christmas tree is back this year! The tree will be on the top of Camelback until the day after Christmas and Santa will be making his sightings on the weekends. Cambelback is a staple hike in Phoenix so it can get crowded but it is so worth the views, plan accordingly. You can access the top by hiking Echo Canyon Trail or Cholla Trail. Be sure to finish your hike by sunset due to the parks closure. This hike leads you to a perfect place for an adventurous proposal if you're trying to stay out of the cold.
The Desert Botanical Gardens is a perfect place for a proposal anytime of the year, but if you're trying to avoid the cold this winter it is even better! Came during the day for a lovely stroll through the park or come by the night and enjoy the Electric Desert Light Show. Either way the gardens is bound to offer a quiet place to pop the question without the hike. (Please note they only allow dogs in the park during certain events throughout the year).
Not sold yet that Phoenix could offer the best location for your holiday or winter proposal??? Here are a few other locations around the city! Piestewa Peak is another hard trail, but being the third highest peak in Phoenix it would also offer great views for a proposal. While the Salt River is drained at this time of year it still offers that magically touch seeing the wild horses and stunning sunset colors. You can also take a horse ride through the Saguaro Ranch Stables. Can you say it's a date?! Or make it a date weekend! Camp in Cave Creek Regional Park and spend your weekend camping, hiking, sitting by a fire and enjoying the quaint area of downtown Cave Creek with bull riding, line dancing and great food.
Northern Arizona Winter Proposal Locations
Just a short drive from the Phoenix area (1.5 hours) you find Payson home of the pines as I like to say. The Payson area is filled with amazing adventure spots like the Tonto National Bridge, Fossil Creek and several lakes. A killer view and romantic spot for a winter proposal in Payson would for sure be the the mogollon rim. No hike required and I imagine it would be the perfect spot to cuddle up for a romantic winter picnic leading to the big question. Be sure to check the weather conditions and road conditions before setting out!
Check out this video below of slight snow from the mogollon rim:
Sedona is a hiking mecca, climber's dream and a travel destination. If you're a local or a tourist it is a super romantic spot for a proposal and even more so in the winter. From long hikes in the snow, to romantic dinners or short hikes with amazing views you can not go wrong. If you're up for the hike some that I recommend are Seven pools, Devil's Bridge and West Fork.
Check out this video of a snowy Sedona!
Flagstaff is one of those places that gets me feeling like a little kid on Christmas morning. Flagstaff may be the ultimate location for an Arizona winter proposal. While the roads to Lockett Meadow or closed there still endless options! Check out snowbowl, where you can go skiing, ride the ski lift or just check out those snowy mountain views. There are lots of other trails, destinations and romantic dinner options in the area so well. Not sure?? Does the word cabin excite you? Imagine renting a cabin and enjoying a wood fire with the snow and stars all around you before popping the question.
To track snow in the snowbowl area check out this link!
I didn't think about the Grand Canyon as a winter destination until I moved here and now I can not wait to see it graced with snow!! It is a perfect day trip from Phoenix and a grand way to propose :) While the snow is mostly during the months of Jan. and Feb. we have already had snow fall this winter season.
Check out this video from a snowy Grand Canyon WITH elk!
While this is only a few of the many stunning places in Arizona that are perfect for a winter proposal I hope that this helps you in your planning to ask for your partner's hand in marriage!
Please remember that if you decided to head to Northern Arizona to pop the question to check the weather conditions and road conditions. Feel free to pop the champagne and celebrate, but remember these beautiful natural habitats are fragile, please practice leave no trace behind.
As always, yes! I will hike with you! Do not miss the chance to document this important stage in your life. I am available to photograph your proposal anywhere in the state of Arizona :)
These locations are not only just right for a winter Arizona proposal, but also a winter elopement or engagement session!
It is me here to say thank you for reading my blog and hope that you enjoyed it! Feel free to leave a comment below about your proposal story to inspire others! Guys, I am always here to help out on this special moment in your lives. Feel free to reach out, having a photographer there can be a complete surprise and secret until after you have proposed or it can be a helping tool to getting to the question. Come snow, rain, night fall or any hike I am ready and excited to be on the adventure with you two!