Arizona Adventure Elopement Photographer - Arizona Elopement Locations
Elopement locations in Sedona, Flagstaff and Northern Arizona
Arizona Elopement locations explored by adventure elopement photographer.
Arizona is a complete goldmine for any couple looking to elope in the desert. The question is how do you navigate which location is perfect for you?! Google maps is amazing and you can learn a lot about a place by searching through locations on there. Although, unless you already have a place you know for sure you want to elope at I think speaking with someone, like your elopement photographer, who has been to the location is the best way to go about making the selection. I choose to scout locations and do test shoots in places I think would be a good match for an elopement so that I can get an idea of what type of experience my elopement or adventure couples will get from the specific location. I have lived in Arizona for one year now and I can honestly say I have not even seen half of what Arizona has to offer! Everyone knows about Sedona and the Grand Canyon, but what about all the other beautiful places out there!? In the photos directly above and below is a stunning waterfall just outside of Flagstaff. I've seen photos of this place over and over since moving here, but never thought a brown waterfall would be so breathtaking in person! For some reason, the falls actually reminded me of Iceland. This could be because it was below 20 degrees and there was ice everywhere! Or it could be the sound of the fall, stunning view and privacy of the location. Known as the "Chocolate Falls" sits on Navajo land and if you choose to visit this location please respect that. The falls do not run all year and the best time to catch it in full action is winter when snowfall is melting or monsoon season!
Can you guess what water system feeds this fall???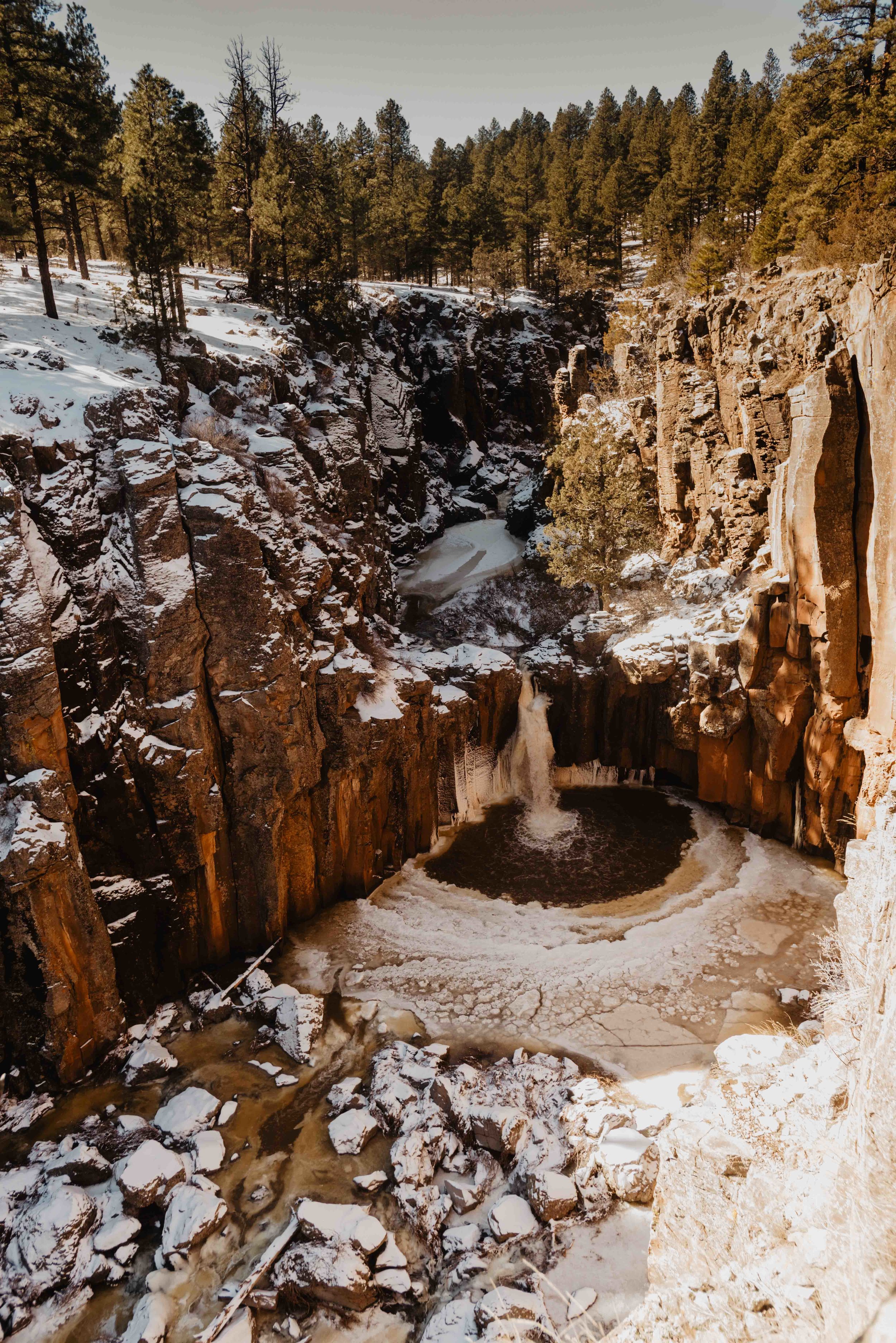 I have been eyeing this location for quite a while. Hidden in the pines is this unique bounty of water in the desert. Although, it is a pretty and peaceful place it disappointed me as an elopement location. While it is not super well known so there is a lot of privacy a clear sight to the fall is not visible. It is surrounded by pine trees and you get a great view of Humphery's Peak on your drive in. If you live in Arizona and haven't visited this place or just visiting Arizona it is a great spot to visit if you have an off road car. You can get to the location two ways! One way is a a half mile hike in parking in Williams, Arizona and the other is a ten mile loop. The area is also known greatly for rock climbing.
Ohhhh, Sedona!! Sedona is the mecca of elopement locations for Arizona. With tons of trails and beautiful viewpoints how do you pick just one place?! On this particular trip I explored caves and off road paths for possible places to elope in Sedona. The trick selecting an elopement location is finding a spot with a view you love, a trail you can access, a trail that is not super crowded and one that you connect with. Selecting an elopement location can be narrowed down by many factors. Maybe you select a place that tells a story of apart of your relationship, a place with history, a place you've always wanted to go, a place you two will want to visit on your anniversaries or a type of place that makes you feel good.
Some other places you've already seen in my work that make for perfect places for an elopement in Arizona are pictured here. Waston lake is Joshua Tree meets water right here just outside of Prescott. Some other trails in Sedona, the rim located in Payson and more locations in Flagstaff are all perfect for adventuring together on the day you say 'I do.'
I LOVE all of these adventurous outdoor locations, but I am currently obsessed with this urban living laboratory you pass off of I-17 on your way to Sedona. They currently allow weddings, but I am drooling over it as an elopement location. If you get lucky, you can book the one Airbnb room they have available occiasonal and let me tell you you….STARS, STARS and more STARS than I have ever seen from Sedona or even Joshua Tree!! It is only 45 minutes from Prescott and about the same to Sedona. So you could do a ceremony here then head out for some adventure or the other way around.
Considering eloping or ready to jump right in?? Give me a call!! I would love to work with you in helping plan your elopement and/or document your special day! <3
Comment below where you eloped or would like to elope!!