Sedona Adventure Elopement Photographer - Cathedral Rock Couple's Session
Meet Christina and Jeremiah! This duo drove all the way from Ohio to the great state of Arizona. They did not stop there though, after spending a few days exploring Arizona they ventured off to Joshua Tree National Park, several national parks in Utah and Colorado! I met this husband and wife photo team at the Adventure's Workshop the week before this session in Page. I really enjoyed connecting and learning about their business and all their planned road trips for the year to explore new places. After staying the night in Flagstaff in an Airbnb tucked away in the forest we woke up to 6 degree temperatures and a fresh snow fall. This year's winter here in the desert has been quite fulfilling! We had planned to hike Cathedral Rock in Sedona, my most favorite hike (so far) in Red Rock Country, with a group of fellow photographers from all over the United States. I had major doubts about being able to scale to the top of Cathedral in the current weather conditions. We headed over to the visitor center to obtain our permit and ask the ranger what he thought as far as safety of completely the hike. He told us it would be dicey, but could be done…..
We started out our hike passing many people coming down saying there was no way. All of us were prepared with our hiking boots, so we thought might as well give it a try. We made it almost to the part of the trail where you have to scramble, but not easily. We were all slipping and sliding, it was for sure time to turn around. If you have ever hiked Cathedral Rock I am sure you can imagine going up the first bit of the trail while it is covered in melting ice is not very do-able. If you have never been, it is a great hike, but you do have to scramble this one section and the entire part before that is hiking up the side of the rock face. Later the hike turns into an actual trail ending with a beautiful view overlooking all of Sedona in both directions. The hike may have been possible in these conditions if you had even better gear like grip gloves, different shoes and more.
We could not just give up completely though! We decided to hike the trail that goes along the base of Cathedral Rock! Have you ever done this trail?? It has pretty great views and it is also a horse access trail so you never know when you will run into a four legged friend! I have always thought it is super important to document moments in your life, especially travel. I have also always believed you do not have to be getting married or be engaged to do a couple's session or have photos taken of you and your partner. I love that Christiana and Jeremiah were able to a couple's session during their time here in the desert. Not to mention they got to have a part of their trip photographed during a rare beautiful snow in Sedona! I have found that traveling shapes your life and can change who you are through all the new experiences so I love that they will forever have this memory recorded to have in a photo album or printed on their walls.
Sedona is just one of those places that is like no other! I am always finding new little pockets of joy when hiking new trials in Sedona and enjoying speaking with the locals and hearing the history of the place. I recently did a tour with Pink Jeep Tours to an absolutely amazing location for elopements and our tour guide told us so much I did not know about this part of the state! Do you know where the town gets its name from?? Sedona Arabella Miller Schnebly was the name of the wife of one of the first settlers in the town. He opened a post office before it was an official town and shortly he had the area adopt her first name as the town's name. How sweet is that, he loved his lady so much he named the town after her!!!! According to our guide some of the rock formation dates over 200 million years old! Sedona has miles and miles of hiking trails, several areas for rock climbing and lots of great shopping and dining options. There are plenty of places to camp, many lovely Airbnb's, hotels and places to park if you're apart of the van life crew. It is a hop skip a way from the Grand Canyon, next door to Flagstaff and on your way to Page from Phoenix. It is a great place to visit and a perfect place for your elopement or a couple's session!
Visiting Sedona sometime soon?! Let's document your trip with an adventurous couple's session!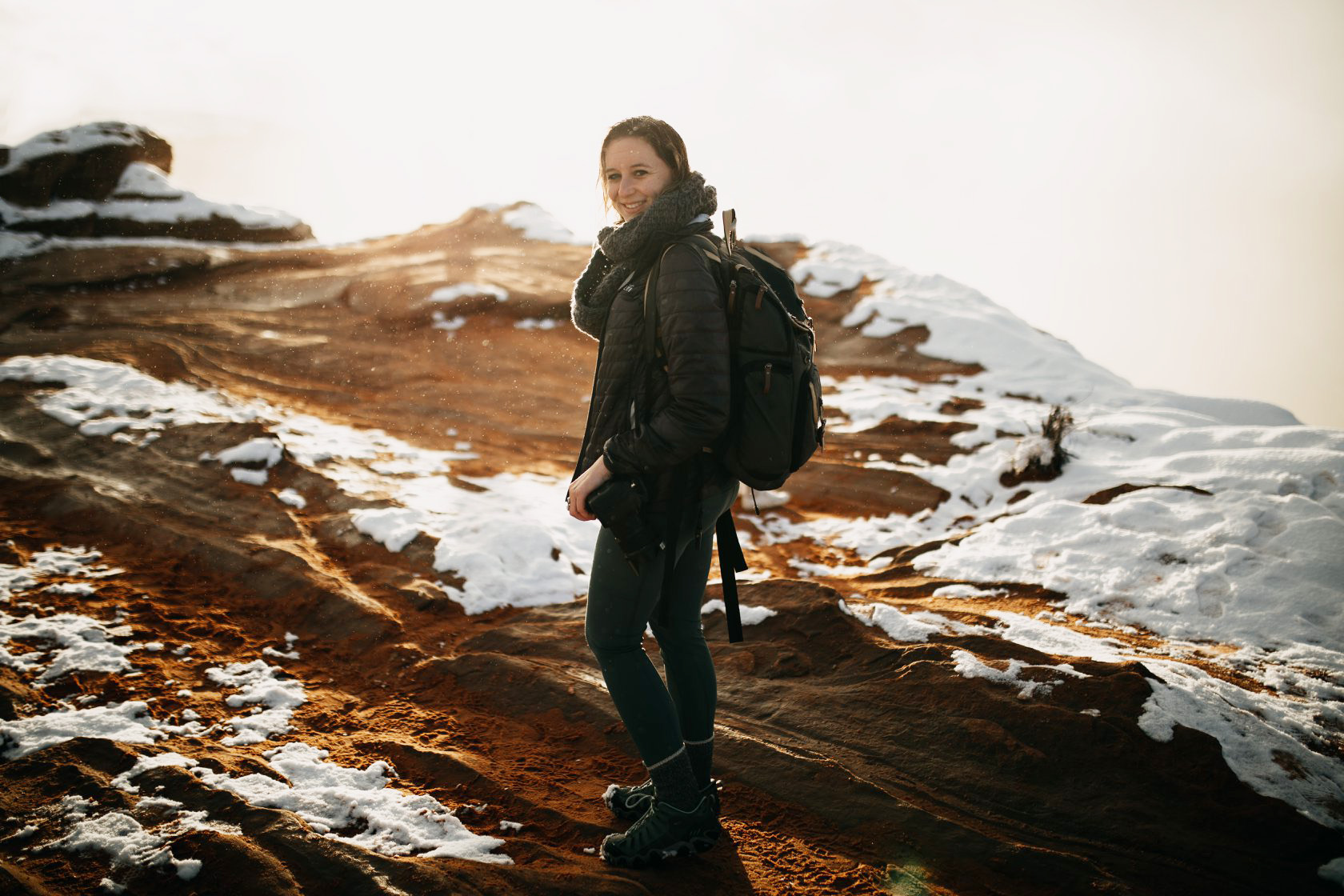 I hope you enjoyed this blog post!!! If you're thinking of eloping in Sedona please check out this Elopement Session for more inspiration! Also, thanks for the photo Christina :)